It is rated fifth in the Medical Tourism Index as a treatment destination, having fallen three places over the last year. But the UK will surely bounce back to its formerly higher spot in 2021 once the prospect of further lock downs has been banished.
Why? Well, one of the reasons is the huge waiting lists of cancelled operations – many of which have been carried out in the private health sector over the past year instead.
As Covid-19 continues to ravage through the UK those lists of non-elective surgeries and delayed operations have increased. The BMA recently revealed that in October 2020 the number of patients who had been waiting for more than one year for specialist treatment had increased 123-fold compared to the previous year – to the extent the NHS waiting list now stands at 4.4 million: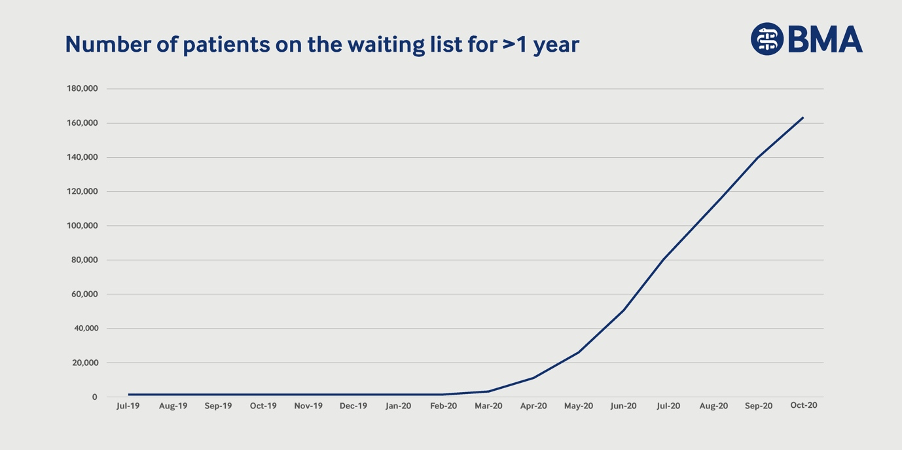 Back in September, several months before the latest big national lockdowns, there were still 139,545 patients in England who'd been left waiting more than a year for a cataract operation or surgery on their knee or hip. This is well beyond the 18-week waiting time advocated by the NHS.
And those waiting times aren't going to improve any time soon. With doctors and nurses busy fighting not just the infection, but also handling the roll-out of vaccinations, there isn't a lot of staff – or operation time – to go around.
Some of the transfers from the NHS to the private sector have been through choice as patients opted to avoid a long waiting list. Others were the result of NHS referrals through under-capacity causing a backlog of procedures. US-listed HCA Healthcare recorded twice as many self-pay procedures in hip surgeries, cataracts and abdominal operations than the previous year, for instance.
NHS referrals have been partly funded through the extra £3bn winter support for the NHS which was announced shortly before the Spending Review. In addition, back in March the NHS also funded the operating costs of private providers to make sure they didn't suffer from the effects of the pandemic. This included the cost of rent, interest payments, and staff salaries.
Only this week the UK government announced they would be spending more than £10 billion on private health providers over the next four years. It will allow NHS Trusts to buy care from private providers, cutting back on backlogs. It's also an attempt to make up for the drop of 83 per cent in patient numbers in NHS contracts from April 2019 to April 2020 due to coronavirus.
The news of the contracts has prompted more than 90 private clinics, such as Spire Healthcare and Circle Healthcare, to sign up to the deal. The first patient transfers are due to take place in March.
Senior Healthcare Analyst at RBC Capital Markets, Charles Weston is expecting 2021 to be a good year for private healthcare.
"An NHS tender valued at £10bn over four years and Covid-19-related prioritisation in some hospitals should drive more NHS work into the independent hospital sector," he said.
But not all private clinics are set to benefit. According to a leaked report by the Kings Fund, around two thirds of private clinics missed out on private work from the NHS because radiologists and anaesthetists were employed elsewhere in the NHS.
Siva Anandaciva, chief analyst at the King's Fund think-tank blamed this on the fact that "a lot of the work is done by staff shared across the NHS." The effect of this, he added, was very much underestimated.
Meanwhile, not only has the increase in NHS delegated operations allowed many private clinics to stay afloat during lockdown, it has also altered the perception of the private health industry as a whole. Many now see it as a saviour at a time of crisis, instead of a pariah seeking only to serve the wealthy.
What the Cleveland Clinic London promises
Based at 33 Grosvenor Place near Buckingham Palace, the 204-bed Cleveland Clinic London private hospital is due to start its outpatient services this year, with inpatient services following in early 2022. Its outpatient unit had originally been scheduled to open in 2020.
Of course, the global pandemic put paid to such timescales staying on course. But then, the company does have a 123-year lease on the building…this huge private medical hospital – measuring 324,000 square-foot and eight storeys high – will prove a Godsend to the capital's currently beleaguered NHS.
The Cleveland Clinic will offer specialist expertise in the treatment of a number of areas. One of these is cardiovascular disease (the organisation has been rated America's top clinic in this field for the past two decades by U.S. News & World Report. Other focuses for the hospital include digestive disease, neuroscience, and orthopaedics. A total of 30 beds will be for intensive care, making it one of the biggest private intensive care units in the UK.
Treatment will involve using state-of-the-art invasive procedures, together with remote monitoring and virtual health technologies.
As well as Cleveland Clinics in four states in America (Ohio, Florida, Nevada and Los Angeles) the international health system also has hospitals in Canada and Abu Dhabi. The UK is their first move into Europe.
The future for smaller aesthetic clinics
It's been an incredibly tough year for smaller clinics in particular. Not only did they suffer from cancelled operations due to lockdowns, they also had to invest in PPE and additional cleaning procedures when they were allowed to open again. That proved a stress on both staff and profits.
The British Dental Association (BDA) acknowledges that COVID-19 closures "brought many private practices near a financial cliff edge." There were, in fact, 19 million fewer treatments carried out between March and October 2020 than there were the previous year. The figure includes both emergency treatment and check-ups. As a result of their drastically reduced workload, many dental clinics are at the point of closure, said the BDA. Only extra financial support from the government would allow them to survive.
Changes small clinics can expect this year include more virtual interaction, giving patients access to experts without the expensive travel costs. With budgets so tight right now, owners of these clinics might also want to change their payment options, such as requiring more deposit to be paid upfront to avoid losing out from cancelled operations.
As for whether Covid-19 will have put people off signing up for cosmetic procedures, the unanimous answer seems to be 'no.' Beauty, according to one aesthetic surgeon, "is always going to matter."