Medical tourism in Dubai has received a boost with the opening of Mubadala Health Dubai, a state of the art day surgery and medical facility in the Jumeirah district.
Mubadala Health is the integrated healthcare network of Mubadala Investment Company, a state-owned holding company that acts as a sovereign wealth fund with USD 284 billion worth of assets under management in more than 50 countries.
Global experts in one setting
Headquartered in the capital, Abu Dhabi, Mubadala Health operates and manages a portfolio of healthcare assets including Cleveland Clinic Abu Dhabi, a quaternary hospital ranked the number one UAE hospital in Newsweek's 2022 World's Best Hospitals Index. The network also includes two international NHS brands in Imperial College London Diabetes Center, specializing in diabetes treatment, research and public health awareness, and Moorfields Eye Hospital, a leader in ophthalmology services.
Patients visiting Mubadala Health Dubai will have access to comprehensive healthcare services from across its network under one roof.
The 125,000 square-foot Mubadala Health day surgery and medical facility opened recently, adding to the expanding landscape of high quality healthcare choices in Dubai. The facility comprises 96 consultation rooms, 4 operating rooms, 2 endoscopy suites, a rehabilitation gym, an in-house laboratory, pharmacy and radiology services.

Guided by a vision to transform the regional healthcare landscape and the passion to serve communities, Hasan leads a team of experts to drive the Mubadala Health network, comprising more than 11,000 caregivers.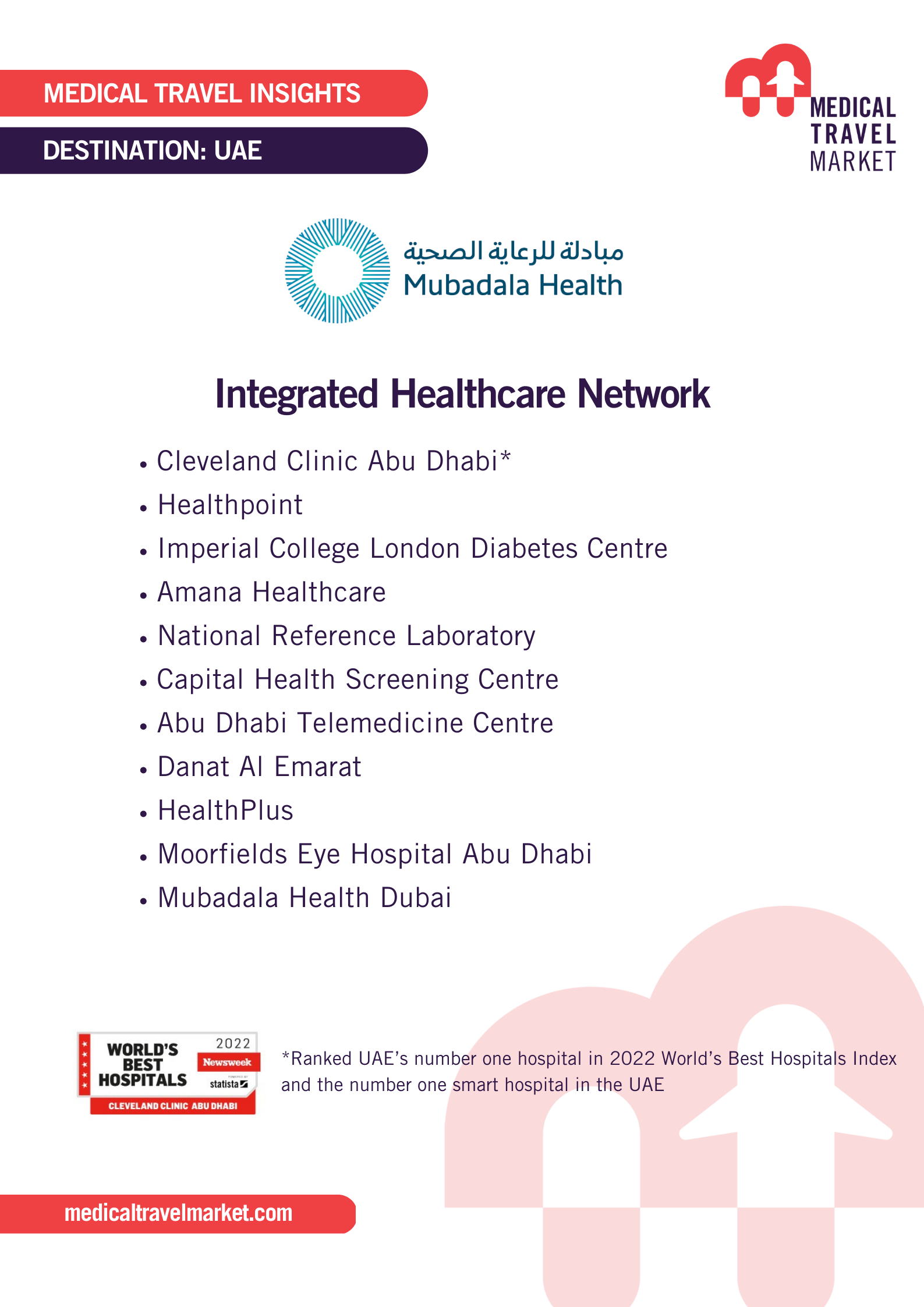 Why choose Dubai for medical treatment
Medical tourism spend in Dubai reached nearly AED 730 million in 2021, with 630,000 international health tourists choosing Dubai as their preferred destination for medical treatment, according to a May 2022 report released by the Dubai Health Authority (DHA).
Tourists come primarily from Asia (38%) Europe (24%) and Gulf countries (22%) The three specialties most sought by medical tourists in Dubai are Dermatology (43%), Dentistry (18%) and Gynaecology (16%).
Specialties at Mubadala Health Dubai
The Mubadala Health Dubai facility offers residents of the UAE and medical tourists easy access to experts from across the Mubadala Health network in a single setting.
The full range of specialties being offered includes:
Medical Specialties
Dermatology
Dietetics
Endocrinology
Internal Medicine
Neurology
Psychology
Pulmonology
Rheumatology
Senior Citizens Health
Sleep Medicine
Allergy and Immunology – Coming soon
Cardiology (non-invasive) – Coming soon
Gastroenterology – Coming soon
Psychiatry – Coming soon
Surgical Specialties
Anesthesiology
Plastic Surgery
Podiatry
Urology
Vascular
Ear, Nose, and Throat – Coming soon
General Surgery – Coming soon
Ophthalmology – Coming soon
Orthopedics/Spine/Joint – Coming soon
Pediatric Specialties
General Paediatrics
Psychiatry
Psychology
Pulmonology
Allergy and Immunology – Coming soon
Endocrinology – Coming soon
Gastroenterology – Coming soon
Neurology – Coming soon
Sleep Medicine – Coming soon
Physiotherapy and Rehabilitation
Behavioural Therapy
Occupational Therapy (Adults and Paediatrics)
Pain Management
Physiotherapy (Adults and Paediatrics)
Speech and Language Therapy (Adults and Paediatrics)
Sports
Physical medicine and rehabilitation – Coming soon
Radiology
MRI
CT
Fluoroscopy
Ultrasound
Xray
Diagnostic Radiology
Laboratory
Anatomical Pathology
Clinical Pathology
Mubadala Health Dubai is located in Sunset Mall, Jumeirah Beach Road, Jumeirah 3, Dubai.
To book an appointment at Mubadala Health Dubai, call 800 77.
Discover Quality Healthcare Worldwide
Check out our premier network of medical partners and the latest packages.