Medical tourism is reshaping several industries, especially in the field of hair transplants. According to International Hair Restoration Surgery, hair transplants are becoming more common in medical tourism circles. Hair clinics now serve as wellbeing centres, focusing not just on physical aesthetics but also on enhancing self-esteem. Top surgeons and trichologists globally collaborate to offer streamlined, innovative hair transplant procedures, addressing both the physical and emotional facets of their patient's lives.
To make a well-informed decision, consider these leading international clinics that are pioneering the future of follicular rejuvenation as ranked by Medical Travel Market's own market research.
UK & Europe
Prague, Czech Republic
Dr. Andrea Mačejová, MD
https://www.abclinic.com

First on our list is ABClinic Art & Beauty, which is recognised as the pioneer clinic in the Czech Republic for comprehensive multidisciplinary care. Their distinctive approach is characterised by a seamless integration of services that prioritises not only the aesthetic appeal and natural beauty of its clientele but also their overall health and vitality.
ABClinic Art & Beauty offers visitors an extensive spectrum of both surgical and non-surgical interventions. The clinic offers cutting-edge equipment, innovative techniques, and supplementary products. Their patients receive not only treatment but also comprehensive support at every stage of their journey. Dr. Andrea Mačejová is one of ABClinic's Direct Hair Implantation (DHI) experts, as well as a specialist in Mesotherapy and Plasma Therapy.
Bergen op Zoom, Netherlands
Dr. Munib Ahmad
https://fuegenix.nl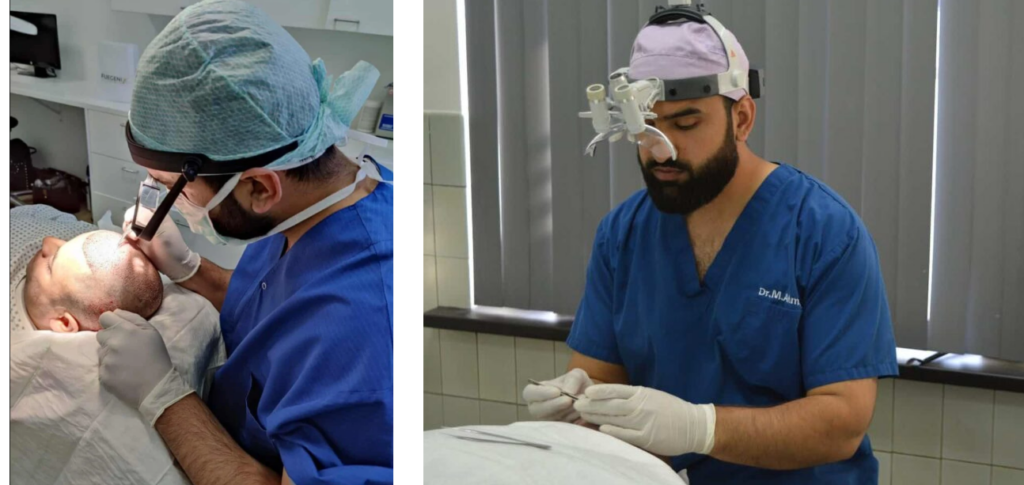 Located in the Netherlands, FueGenix Hair Clinic stands out for its commitment to quality and expertise in hair restoration. Its unique approach lies in the involvement of Dr. Munib Ahmad, a renowned figure in the field of hair transplantation. He is considered one of the world's foremost hair transplant surgeons. 
His membership in esteemed associations like the International Society for Hair Restoration Surgery (ISHRS) and the International Alliance of Hair Restoration Surgery (IAHRS) attests to his dedication to the highest standards of care. His exceptional credentials and reputation are reflected in the consistently outstanding results achieved by previous clients. With a track record of performing up to 20 hair transplant procedures per month, Dr. Ahmad and FueGenix Hair Clinic are synonymous with excellence in the field of hair restoration.
Manchester, UK
Dr. Bessam Farjo
https://www.farjo.com

The Farjo Hair Institute, founded in 1993, is a global leader in hair transplant surgery. It has earned a reputation as one of the world's foremost authorities in the field for its unwavering commitment to providing exceptional patient care in both medical hair treatment and surgical hair restoration.
The Farjo Hair Institute goes above and beyond traditional hair transplant clinics by seamlessly integrating hair transplant surgery, hair loss medicine, hair scientific research, and education into their medical practice. At the heart of this institute's exceptional care is a team of highly acclaimed doctors led by Dr. Bessam Farjo. He is the clinic's Founding Director and Lead Hair Restoration Surgeon and an esteemed Diplomate and Past Board Director of the American Board of Hair Restoration Surgery (ABHRS). He also holds the distinction of being the 1st European President Founding Member and past President of the British Association of Hair Restoration Surgery (BAHRS).
Rhode-Saint-Genèse, Belgium
Dr. Christina Bisanga
https://bhrclinic.com

BHR Clinic is an industry leader in the practice of FUE (Follicular Unit Extraction) hair transplant procedures and has been recognised as one of Europe's premier hair transplant clinics. Established in 2006 by Dr Bisanga, BHR Clinic Brussels has evolved into one of the world's premier hair restoration clinics. As an expert in FUE procedures, Dr. Bisanga has earned worldwide recognition for his technique, which continues to evolve and advance. He is regarded as one of the world's leading experts in this field.
One of Dr. Bisanga's most notable accomplishments was performing one of Europe's largest FUT hair transplants involving approximately 6,000 grafts. A fluent speaker of French, English, Swahili, and Lingala, Dr. Bisanga has devoted much of his time to training and mentoring fellow doctors. Dr Bisanga has gained the trust of many respected professionals over the past 15 years, further enhancing his standing as a key figure in hair restoration.
Dr. Bruno Ferreira
Porto, Portugal
https://brunoferreira.com

Dr. Bruno Filipe Carneiro Ferreira is a dedicated practitioner with a decade of extensive experience in hair transplant surgery. His meticulous approach to achieving natural-looking results is renowned, and he is known for not taking shortcuts. He ensures that patients are comfortable and well-cared for throughout the process with his patient-centric philosophy.
In addition to his clinical practice, Dr. Ferreira contributes actively to hair transplant surgery. As part of his involvement, he conducts research, develops instruments and techniques, and advances the state-of-the-art in hair restoration. He shares his knowledge with peers by serving on the faculty of esteemed organisations like the International Society of Hair Restoration Surgery, the World FUE Institute, and the Portuguese Society of Aesthetic Medicine. In addition, his clinic attracts patients from across the globe, conveniently located around 20 minutes from Porto airport. Dr. Ferreira's clinic offers private driver services for added convenience and comfort.
Sofia, Bulgaria
Dr. Tsvetalin Zarev 
https://www.hairtransplantation.bg

The Galatea Clinic is led by renowned aesthetic plastic surgeon Dr Tsvetalin Zarev. In his nine-year career, Dr. Zarev has been recognised for his outstanding skills and expertise in the medical field. Dr Zarev specialises in hair follicle transplants and has successfully completed thousands of procedures, making him a trusted authority in hair restoration. In 2019, Dr Zarev achieved the world's first by performing one of the largest hair transplants in history, a 14,000 graft follicular unit extraction (FUE) giga-session. At the FUE Europe Conference, one of the industry's foremost hair surgeons, Dr John Cole, endorsed this remarkable achievement.
Dr Zarev has pioneered a manual and motorised extraction technique that allows 60% of hair from the donor area to be extracted without damage. Each patient's approach is tailored according to their follicular unit characteristics, sclera elasticity, and blood supply to the recipient area. In recognition of this contribution, Dr. Zarev was named one of The World's Top 25 Hair Transplant Surgeons by ApetoGentleman. 
America – North/South, Canada
New Jersey, USA
Dr. Michael Gartner
https://www.newjerseyhairtransplantclinic.com    

In order to meet the unique needs of each patient, Nova Medical Hair Transplant New Jersey offers personalised restoration plans. This individualised approach ensures that every transformation aligns perfectly with the individual's specific needs. The clinic's technicians have a combined experience of over 15 years in the hair transplant business. Their extensive experience shows their commitment to patient satisfaction.
At the forefront of technological advancements, their clients benefit from the NeoGraft advanced robotic hair transplant experience. This is an offering that exemplifies the clinic's dedication to staying ahead. Dr. Gartner's worldwide recognition as an innovator in aesthetic plastic surgery is a testament to his surgical abilities. Holding the distinguished title of being ranked the #1 Plastic Surgeon in NJ and NYC by RateMDs, his expertise sets a benchmark in the field.
Texas, USA
Dr. Goran Jezic
https://www.hairphysician.com 

Houston Hair Transplant Center is one of the nation's leading Neograft FUE hair restoration clinics. Recognising that specialised focus yields superior outcomes, the clinic concentrates solely on the FUE technique. This commitment to a singular approach has been acknowledged by top hair transplant surgeons who understand that mastery is achieved through specialisation.
Houston Hair's transplantation procedure involves the use of individual follicle hair graft implants, ensuring precision and reliability in the process. This results in authentic hair regrowth with minimal recovery times, delivering both natural-looking results and swift healing. With over two decades of experience and a dual board certification, Dr. Goran Jezic has been helping patients achieve their optimal appearance and self-assurance. The recent FDA approval of their minimally invasive NeoGraft procedure has served as inspiration for the clinic's expansion into the field of hair restoration.
MENA – Dubai, Turkey, Jordan
Istanbul, Turkey
Dr. Ziya Yavuz
https://www.drziyayavuz.com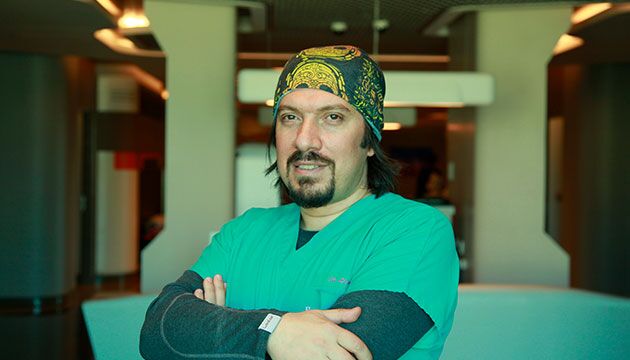 Renowned as one of Turkey's most esteemed hair transplant surgeons, Dr. Yavuz's reputation speaks for itself. Specialising in the Sapphire hair transplantation method, his focus is on crafting natural hairlines, achieving maximum density, strategic placement, and ensuring an undetectable hair transplant outcome.
Dr. Yavuz Hair Transplant Clinic has over a decade of establishment and boasts a highly experienced team. With more than 10 years of service, they have successfully treated over 7,500 satisfied patients through the FUE method of Hair Transplantation. The clinic offers the latest advancements in hair transplantation techniques, namely FUE (Follicular Unit Extraction) or DHI (Direct Hair Implant). To further cater to their valued clients, they also provide competitive hair transplant packages that include accommodation and transfers.
Amman, Jordan
Dr. Taleb Barghouthi
https://vertexhair.com

Vertex emerges as a distinguished hub for trichology and hair loss excellence in the region. This unique establishment seamlessly integrates hair transplant surgery, hair loss medicine, and scalp disease management within its framework. Engaging proactively in international hair and trichology conferences and seminars, Vertex upholds continuous medical education and remains committed to advancing research.
Leading the team is Dr. Taleb Barghouthi, the Founder and Medical Director. A specialist in hair restoration, Dr. Barghouthi completed a dedicated fellowship program in Hair Restoration Surgery in the United States, which is a distinction held by only a few people worldwide. Their top-notch patient care is ensured by qualified nurses and experienced hair technicians. Located in Amman, Vertex is easily accessible from a number of regional cities through direct flights. 
Istanbul, Turkey
Dr. Mehmet Erdoğan & Dr. Gökay Bilgin
https://www.smilehairclinic.com

Smile Hair Clinic, founded in 2018 by Dr. Mehmet Erdogan and Dr. G Bilgin, has rapidly set an international benchmark in the field of medical hair transplants, owing to its cutting-edge procedures and techniques. Specialising in FUE hair transplantation, the clinic has garnered accolades and recognition, even featuring in authoritative media such as the BBC Healthcare Tourism Documentary Series, underscoring its seamless and successful approach to hair restoration.
Based in East Istanbul's financial district, Smile Hair Clinic employs over 100 well-trained professionals in a state-of-the-art facility. Keeping up with True™ Philosophy's success criteria, its team members undergo rigorous training. At Smile, their Sapphire FUE Transplantation is an essential hallmark of their hair transplantation service.
Jeddah, Saudi Arabia
Dr. Shadi Zari
https://beautyelementclinics.com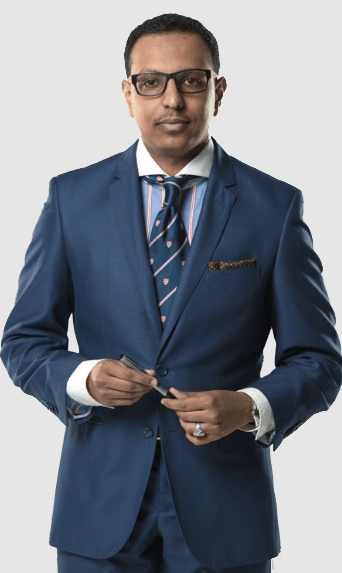 Beauty Element Clinics proudly houses Dr. Shadi Zari who is widely acclaimed as the best hair transplant surgeon in Saudi Arabia. With a distinguished background in dermatology and hair restoration, Dr. Zari's credentials are nothing short of impressive. Dr. Zari completed his dermatology residency training at McGill University in 2009, followed by a prestigious hair restoration fellowship with Dr. Walter Unger in 2010. He holds the esteemed position of Vice Dean of the Faculty of Medicine at the University of Jeddah in Saudi Arabia, further underscoring his prominence in the field.
In addition to his role in Saudi Arabia, Dr. Zari serves as an Adjunct Professor of Dermatology at McGill University in Montreal, Canada. His expertise extends to educating dermatology residents on critical subjects related to hair loss, scalp dermoscopy, and hair transplantation surgery. His influence extends internationally as a sought-after speaker on topics encompassing hair loss, hair transplantation, and regenerative medicine. Moreover, his expertise also includes training professionals in PRP, autologous micro-grafting, botulinum toxin, and filler injections. Under Dr. Zari's leadership, Beauty Element Clinics sets a high standard in the field of hair restoration, ensuring patients receive the finest care from one of the foremost experts in the industry.
Asia – India, Thailand
Mumbai, Gurugram, India
Dr Arika Bansal
https://eugenixhairsciences.com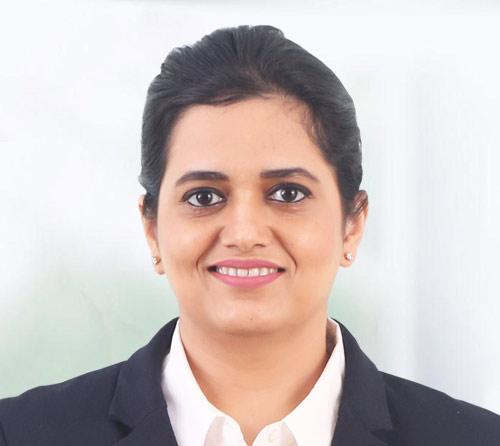 Eugenix Hair Sciences is India's leading hair transplant clinic run by Dr Arika Bansal and Dr Pradeep Sethi. They are world-renowned hair transplant experts who developed the groundbreaking Direct Hair Transplant Technique (DHT), a revolutionary procedure. These doctors are both graduates of the All India Institute of Medical Science (AIIMS) with a collective experience of over 15,000 hair transplant procedures and have successfully treated 1800+ cases of Grade 6/7 Baldness.
Dr. Arika Bansal is one of the few female surgeons specialising in hair transplant surgery in India. She maintains active membership in the ISHRS (International Society of Hair Restoration Surgery) and regularly contributes research papers to medical journals. Meanwhile, Dr. Pradeep Sethi co-authored the informative book, "Step by Step Hair Transformation." His extensive background in both hair transplant and dermatology equips him to deliver natural-looking results to his patients. Dr. Sethi's experience and expertise are undeniable with a track record of over 5,04,00,000+ grafts and a 100% success rate.
Bangkok, Thailand
Dr.Damkerng Pathomvanich
https://dhtclinic.com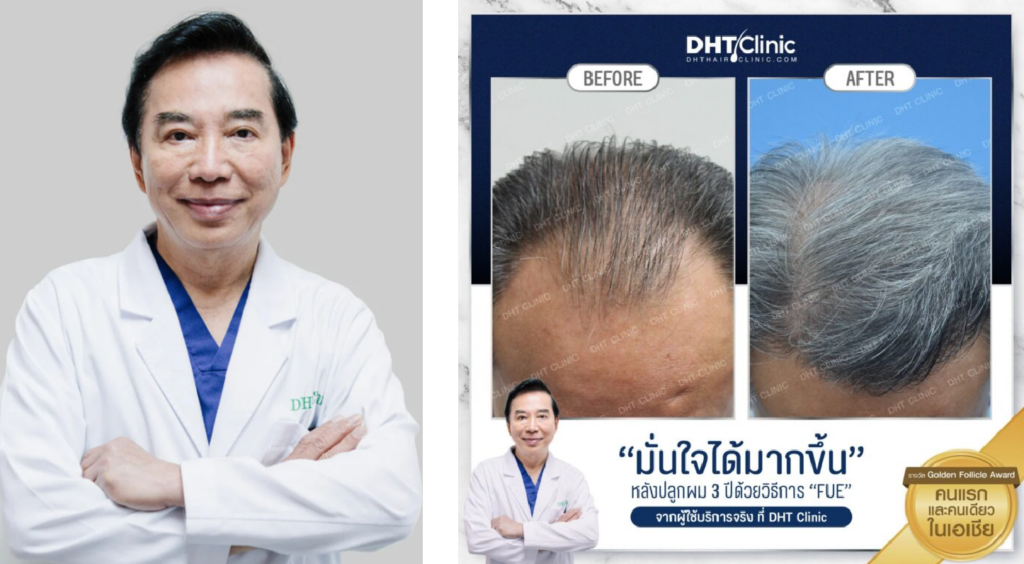 DHT Clinic stands as the premier destination for hair transplantation in Thailand, with over 25 years of experience perfecting the 'Refined Follicular Unit Hair Transplantation Technique. Under the guidance of Dr. Pathomvanich, the clinic's dedicated team, including skilled surgeons, assistant doctors, and surgical assistants, meticulously sculpted natural hairlines and select donor areas. This ensures each step is executed with the utmost care to achieve optimal outcomes for patients.
Dr. Pathomvanich, certified and recertified by the American Board of Surgery, is a distinguished Fellow of the American College of Surgeons. His recognition as a pioneer in Hair Forum International speaks volumes about the 'Open Technique' he developed to minimise follicular transection. This has led to its state-of-the-art approach to hair restoration surgery, making sure patients get world-class treatment.